マリチセクワ
Marich Sekuwa
(Its HOT! @ perfect level)
セクワはネパールの焼き鳥です。 鶏肉は10〜12種類のスパイスでマリネされ、独特の風味が生まれます。 マリッチセクワは主に黒胡椒と唐辛子の香りと味わいが含まれています。 (辛さ:ホット)
Chicken marinated with himalayan herbs, spices mixed with the savoury tase of black&white peppers. (spice level: perfectly hot)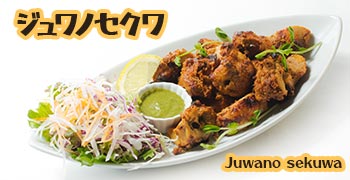 ジュワノセクワ
Juwano Sekuwa
Nepalese style BBQd chicken with a himalayan herb)
セクワはネパールの焼き鳥です。 鶏肉は10〜12種類のスパイスでマリネされ、独特の風味が生まれます。 ジュワノセクワは主にアジョワンハーブ(ネパール語ジュワノ)の香りと味わいが含まれています。(辛さ:中)
Chicken marinated with various spices and a special herb's seed "Juwano". The aroma and taste is perfect blend which keeps it between the level of mild and medium spice.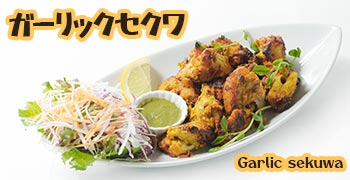 ガーリックセクワ
Garlic Sekuwa (BBQd chicken Nepalese style)
セクワはネパールの焼き鳥です。鶏肉は10〜12種類のスパイスでマリネされ、独特の風味が生まれます。 にんにくセクワは主ににんにくの香りと味わいがいっぱいです。(辛さ:マイルド)
Boneless chicken marinated with various himalayan spices and special garlic sauce. BBQd perfectly to keep it tender and oil free.
Spice level: MILD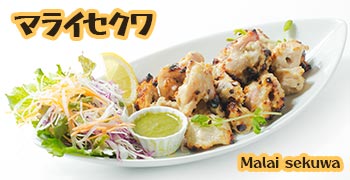 マライセクワ 「甘口」
Malai Chicken Sekuwa
クリーミーでとてもマイルドなスパイスで、やわらかいチキンの食欲をそそる味わいです。子供でさえ、そのようなバーベキュー肉を楽しむのが大好きです。
Creamy, very mild spice, with mouth watering taste of tendered chicken. Even kids loves to enojoy such BBQd meat.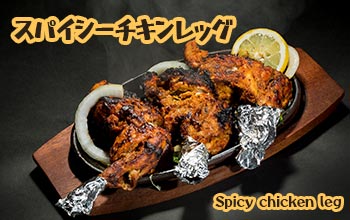 スパイシーチキンレッグ
Spicy Chicken leg
さまざまなスパイスでマリネしたXLサイズのチキンレッグを味わってください。 柔らかく、ジューシーでスパイシーな味わいはおつまみと人気です。
Taste the XL size chicken leg marinated with various spices. Tender, juicy and spicy with goes perfectly with alcoholic beverages.
ポークセクワーマイルド
Pork sekuwa -mild
Pork sekuwa mild is one of its kind. Mild spicy, creamy and juicy even kids can enjoy the BBQ taste.
スパイシーチキンウィングス
Spicy chicken wings
手羽先6個セット。 やわらかいやわらかさと骨を取り除き、より楽しくします。
Set of 6pcs of spicy chicken wings. Soft-tender and bone removed to make it more enjoyable.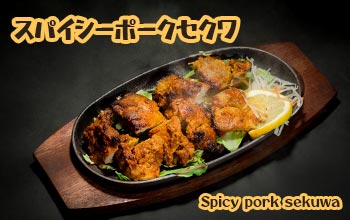 スパイシーポークセクワ
Spicy pork sekuwa
Bonless pork meat marinated with varous himalayan herbs to give it a unique tase. Juicy, chewy and rare of its kind.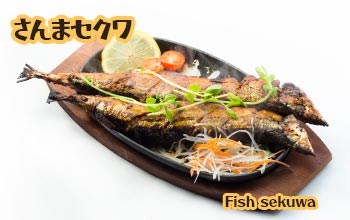 さんまセクワ
Sanma (Fish) Sekuwa
Nepal is full of rivers and lakes. Fresh water fish is marinated and deep fried or bbqd. It is a unique delicacy in certain parts of Nepal. We've tried to recreate the taste using Japanese fish "Sanma".